Perched atop a hill in San Francisco's upscale Nob Hill neighborhood lies a hidden estate — listed for sale at a cool $18.5 million, pricey even by the city's ridiculously high standards.
The brown-shingled home sits on a 0.27-acre lot and boasts three stories, five bedrooms, an elevator, a wine cellar and multiple outdoor decks for viewing the sweeping sights of the cityscape.
But despite its many luxe amenities, the historic home's rich history and character is its most standout quality.
Though the house sits on a hilltop, it's easily obscured by tall, dense shrubbery. Make your way through the trees to find the historic Boggs-Shenson house, listed for sale at $18.5 million.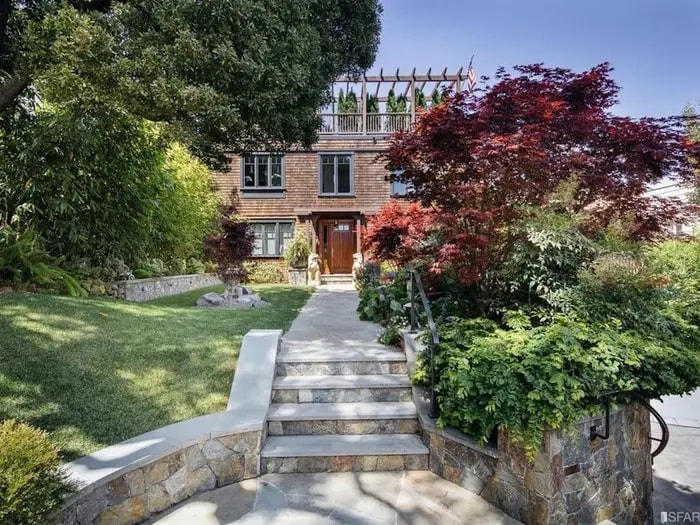 Named after the home's two previous owners, the Boggs family and the Shensons, the present-day historic home was not the first structure on the lot.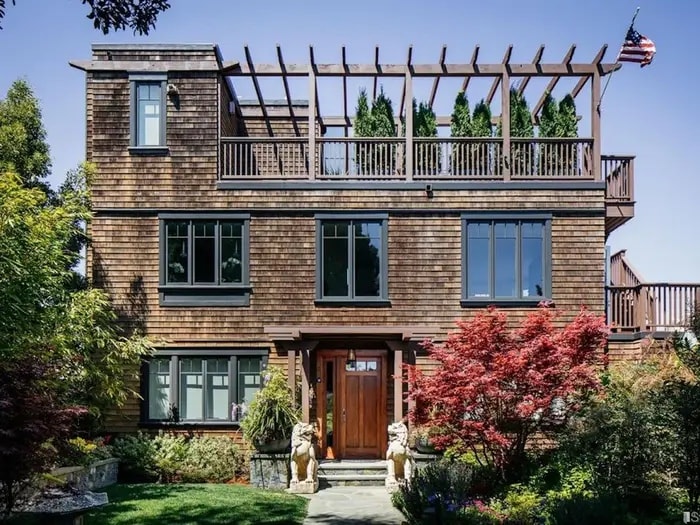 San Francisco residents Angus and Mae Boggs purchased the lot and its original structure in the March of 1906, one month before the infamous earthquake and subsequent fire ravaged the city. The Boggs had barely moved in when the original structure was destroyed.
Months later, the Boggs built the existing Boggs-Shenson house on the lot. Realtor Dale Boutiette told Business Insider that by 1914, almost a decade later, the Boggs wanted better views from their home. So they had it rotated 90 degrees and placed on a new foundation.
In the 1940s, Mae Boggs sold the home to brothers Ben and Jess Shenson, both doctors. Mae befriended the Shensons after they bought the house — they became her personal physicians and hosted her 100th birthday party in the home in 1963.
The house is one of the last single-family residences in Nob Hill. It's lined with dark wood panels, matching the railings on the multiple decks and the pergola on top.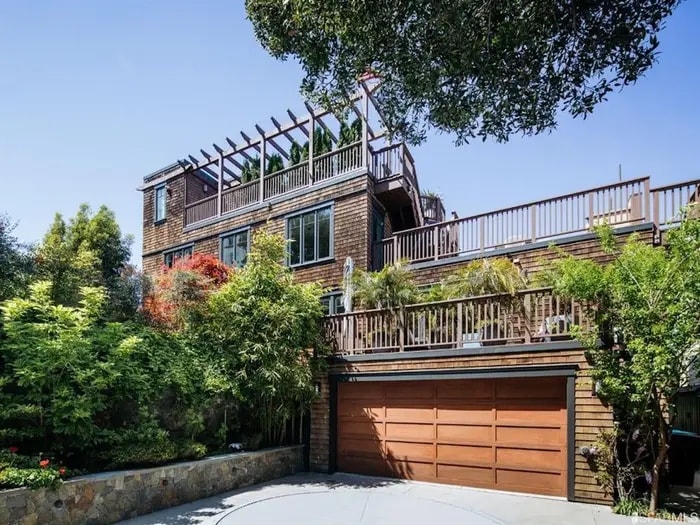 Both brothers have since passed away, leaving the legacy of this home behind them.
A pair of Chinese Guardian Lions greet guests at the front porch.